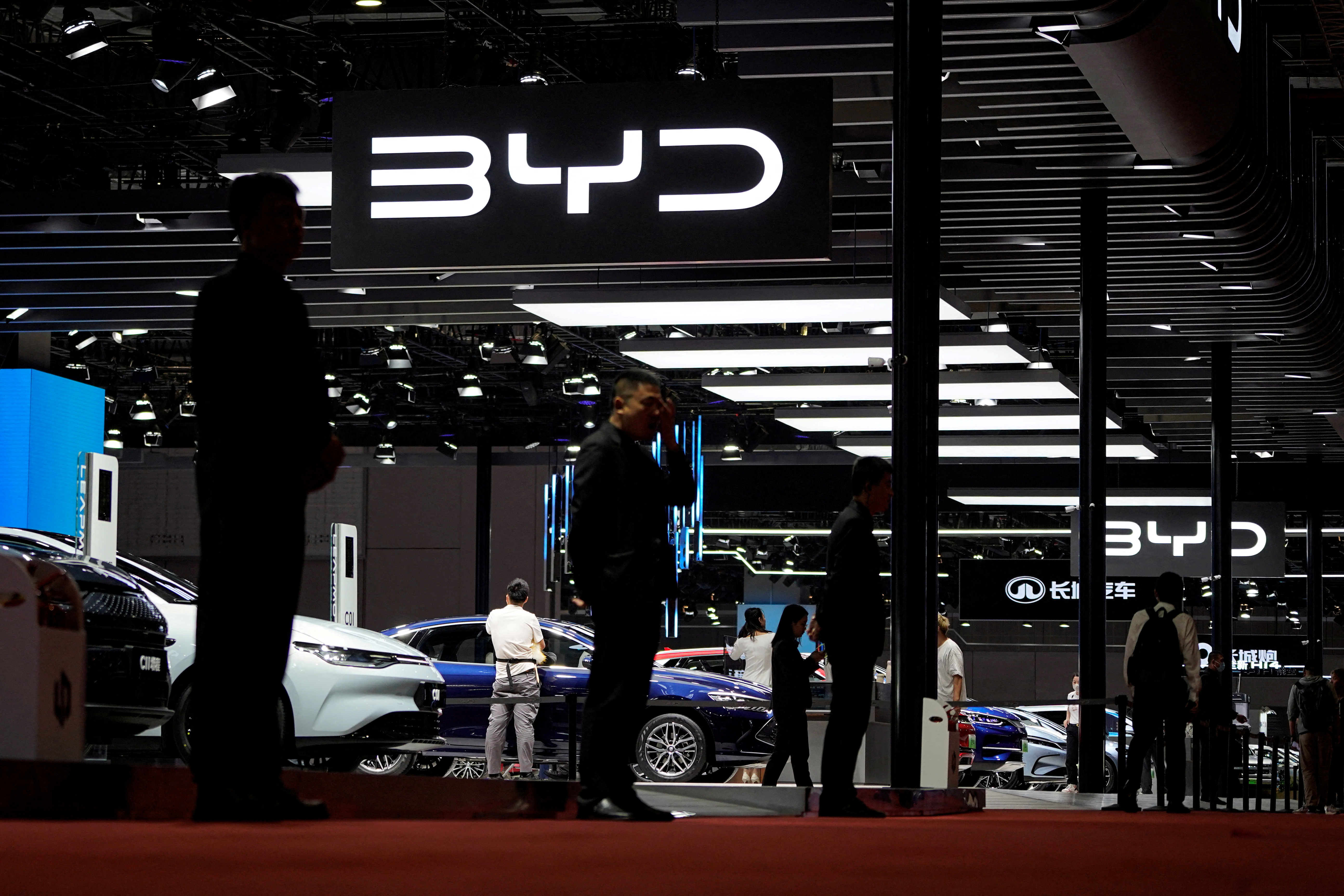 Aug 28 (Reuters) – Chinese carmaker BYD (002594.SZ) said on Monday that its electronics unit has struck a deal with US-based manufacturer Jabil Inc (JBL.N) to buy its mobile electronics manufacturing business in China for 15.8 billion yuan ($2.2 billion).
The deal will expand BYD Electronics (BE) (0285.HK) customer base, product portfolio and its smartphone component business that it looks to capture Jabil's potential growth in the sector.
Singapore-based printed circuit board maker Jabil Circuit this month set up a unit that absorbed its product manufacturing operations in Chengdu and Wuxi, which will now be sold to the Chinese group.
Shares of Jabil rose 6% to $109.50 in early trading.
BYD Electronics shares initially fell as much as 9% in Hong Kong, but reversed their losses and closed flat, while the broader market ended 1% higher. The Hong Kong-listed stock of its parent company, BYD (1211.HK)closed 0.7% up.
Although BYD is now best known for its electric vehicle business, BYD began by selling electronic components. In 2007, it listed its BE unit on the Hong Kong Stock Exchange.
BE's major business has been selling electronic components for home electronics products such as smartphones and laptops. This was one of three key business segments for BYD Electronic and accounted for more than 70% of its total revenue in 2022.
"For BYD, I think it's a reminder that they're doing more than just dominating in electric cars," said Tu Le, founder of consulting firm Sino Auto Insights, adding that they were higher up the mobile supply chain and were a supplier to Apple Inc. (AAPL.O).
Citi analysts said in a note that they believed the deal involved Jabil's Green Point metal case business in Wuxi, and could see BE further penetrating Apple's case supply with higher market share.
BE will likely need to finance the acquisition with loans and issues of shares, they added.
BYD and BE did not disclose how they planned to finance the deal.
BE did not immediately respond to requests for further comment.
"While improving BE's product market share, the acquisition will effectively synergize with BE's existing products, strengthen overall competitiveness, ensure long-term sustainable development," BYD said in an exchange filing, without disclosing any further details of the acquisition.
If the deal closes, the definitive agreement would allow Jabil to "enhance our shareholder-centric capital framework, including incremental share repurchases," CEO Kenny Wilson said in a statement.
The deal would allow Jabil to further invest in "electric vehicles, renewable energy, healthcare, AI cloud data centers and other end markets," Wilson added.
UBS Research analysts said Jabil's board has focused on addressing the "lack of growth" in its mobile parts business.
The deal could streamline Jabil's portfolio at a time when the company's business from key customer Apple has been steadily declining, down from 28% in fiscal 2018 to just 19% in fiscal 2022, according to UBS analysts.
Jabil Circuit works with companies in healthcare, telecommunications, computing and storage, with the goal of driving supply chain intelligence, according to its website.
BYD first entered the automotive industry in 2003 when it acquired Nanjing-based car manufacturer Qin Chuan, which had a car manufacturing license.
($1 = 7.2890 Chinese Yuan)
Reporting by Sameer Manekar in Bengaluru and Yelin Mo in Beijing; Additional reporting by Brenda Goh in Shanghai and Jaspreet Singh in Bengaluru; Editing by Stephen Coates, Mike Harrison and Shinjini Ganguli
Our standards: Thomson Reuters Trust Principles.
#Chinese #carmaker #BYD #buys #company #Jabils #mobility #business #billion